How to Automate Complex Business Processes without Writing a Line of Code
Our Product Specialist and CEO Ian Gosling show you how to automate a complex business process, like an NDA, using the AUTTO no-code automation platform and business automation.
See AUTTO in action.
In this webinar you will learn how to:
Build a workflow using our drag and drop functionality
See what each action does and understand how they help with building a workflow into an automated business process that you can use for everyday business processes.
Preview the interface from an end-user perspective
Plus much more
Business automation is a stepping stone to digital transformation
Digital transformation can seem like a lofty overwhelming goal to organisations that aren't on that path. Business automation can be a stepping-stone to adopting that culture of continuous transformation. You can start with a few processes that are clearly in need of course correction and gradually work your way up.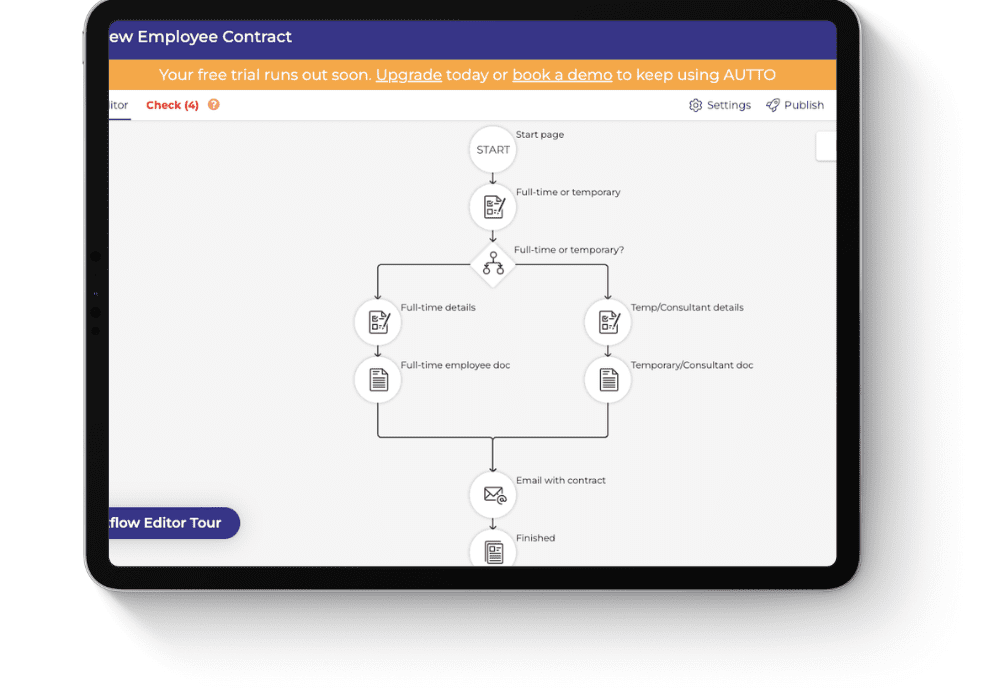 When you automate a business process, you can expect a consistent standard of outcomes every time. Standardisation helps position your organisation as reliable, which in turn can help increase your customer base.
AUTTO's business automation simplifies workflows and processes so your team can spend less time resolving process chaos, and more time doing their best work with them.
Ready To Get Started with business automation?
Replacing paper forms with AUTTO Forms can help your business eliminate paper, improve efficiency, track KPI's, and lower operational cost for data collection and delivery.
If you're ready to take your business to the next level, AUTTO can provide you a delightful business automation experience. It is a cloud-based, no-code application, which doesn't require extensive IT support to set it up. An intuitive visual designer and drag-and-drop form builder will ensure that designing and automating your workflows is a breeze.
AUTTO is simple enough for any team to use, but powerful enough to manage all your processes.