Digital Transformation Simplified
.
AUTTO is a no-code platform that enables knowledge workers to transform their business processes using automated workflows, data tables and integrations..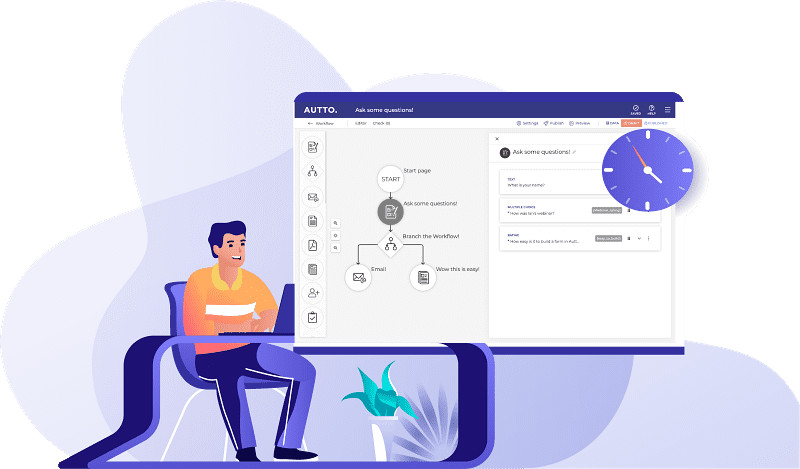 Building automated workflows
With a simple drag and drop workflow builder, AUTTO allows you to build operational processes in hours. Streamlined, automated workflows are then published for use by your clients or colleagues helping your business become more efficient and accurate through automation. These workflows can take care of the repetitive tasks that we do everyday. Freeing your team to do what they do best.
Using AUTTO's cloud-based platform, there is no need to download any software and setting up is easy and intuitive. AUTTO's price plan has also been designed with growing businesses in mind: You can scale with AUTTO as your business needs grow – our licencing has no per-user costs or restrictions on the number of times a process is run.
Connecting your Existing Tech
We understand there are many essential tools needed to run your business. AUTTO's integrations can connect to your existing tech stack. Whether it be Microsoft, Google, Slack or Salesforce to name but a few, AUTTO enables you to connect them to make sure data silos are eradicated and data from automated workflows is updated into your systems.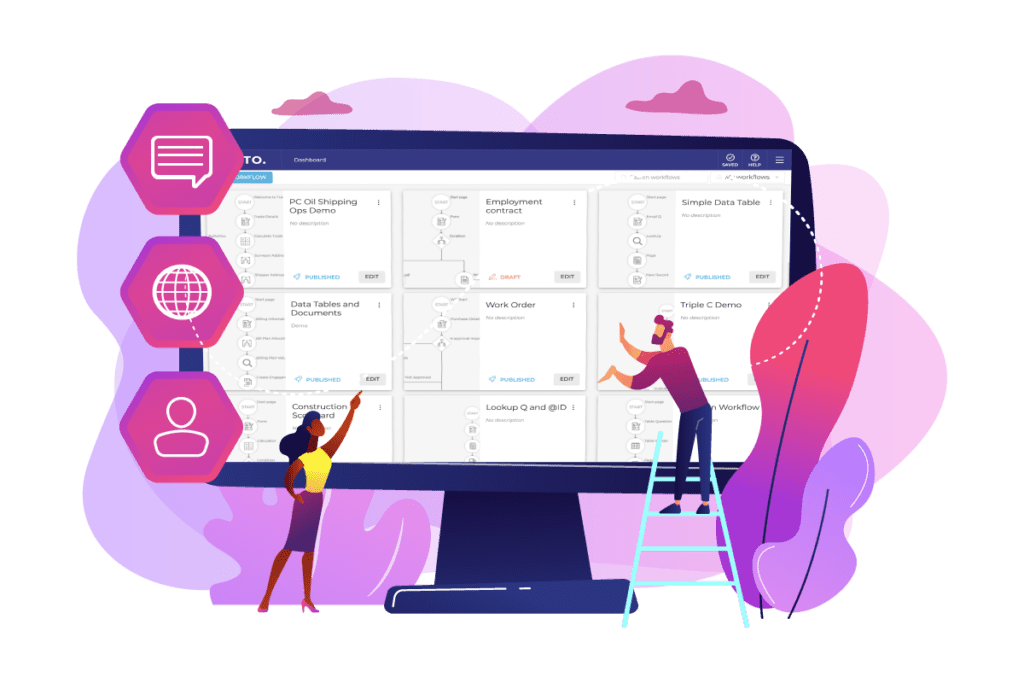 Audit Trail and Analytics
AUTTO automatically generates an audit trail for each process each time it is run – each workflow step having the user´s name, date, time and their actions logged forever – essential for regulated businesses who need to demonstrate compliance.
Analytics reports showing the number and percentage of users who have used and completed a workflow and the amount of time it takes users to complete the workflow's actions help identify pinch-points and opportunities for process improvement.
AUTTO was founded with the belief that technology is the power for growth. Through experience in law, technology, and business the three founders embarked on a journey to make automation accessible for all.
Max Cole, Founder
Max is a former solicitor and a practising barrister specialising in media, commercial and employment law. His broad legal background gives us a unique understanding of legal processes and workflow.
Ian Gosling, Founder
Ian is a product manager and consultant specialising in SaaS, e-commerce and media. He comes from a digital transformation and venture capital background. Ian manages AUTTO's product planning, finance and operations.
Krisztián Kerék, Founder/CTO
Kris is an experienced full-stack developer with an interest in document automation, web security, and e-commerce. With specialized frontend and backend development skills, Kris leads the tech team, ensuring that the product is high-quality and user-friendly.